What to expect at ESCAIDE 2022
ESCAIDE 2022 is nearly here! Here's an overview of what you can expect at the first hybrid edition of the conference.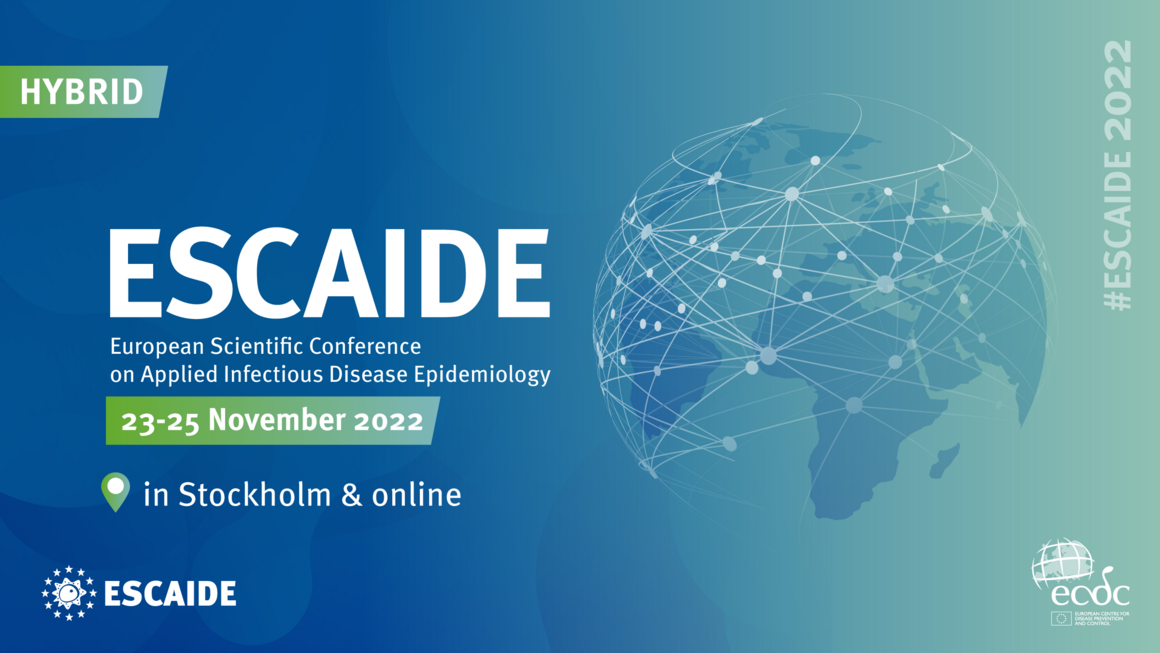 What is ESCAIDE?
The 'European Scientific Conference on Applied Infectious Disease Epidemiology' (ESCAIDE) is an annual conference which aims to strengthen the prevention and control of communicable disease through the sharing of knowledge, experience and contacts.
ESCAIDE has expanded in recent years, reflecting the impact of the COVID-19 pandemic on the field, and the accessibility of online conferences. From an in-person conference with around 600 delegates from 50 countries, last year, ESCAIDE brought together 2500 participants from across Europe and the world.
For the first time, ESCAIDE is hybrid. There has been great enthusiasm to attend – with around 500 people in-person, and already over 1000 online. In-person places are complete, but you can still register to attend online!
How will ESCAIDE 2022 work in hybrid?
We are working to integrate the online and in-person experiences, so all participants get the same opportunities for hearing the latest advances in the field, networking and career development.
Everything you need at the conference will be on the conference platform - the sessions, programme and networking features.
All sessions will be live-streamed, with studio-style audio-visual teams in the venue. Speakers and audience will join sessions in the venue and online.
ESCAIDE has fantastic participation from the audience, even in the online editions the session chats were filled with questions and discussion. To give equal opportunity to the online and in-person audiences to ask questions, all questions will be asked through the chat on the platform. So, if you're attending in person, you can use the Swapcard app on your phone (available on the App Store and Google Play). There will also be polls and quizzes to get audience input through Sli.do, so the panels can hear your views.
Sessions will be recorded and available in the platform after the session (until January 2023), so you can catch up on sessions you missed. Plenaries will be available on the ECDC YouTube channel.
In-person networking opportunities will include lunch and coffee breaks and cocktails on Day 1. Online there will be 'Talkspaces', video discussion rooms where you can meet other participants. And you can see and connect with everyone at ESCAIDE in the 'Participants' tab of the conference platform.
What will be discussed?
At ESCAIDE, sessions address public health challenges in infectious disease and the latest scientific research and advances in the field.
COVID-19 has dominated public health for the past few years, and it has been at the centre of discussions at ESCAIDE. A running theme of ESCAIDE 2022 is reflecting on what was learned from the pandemic, what advances were made and how we can effectively integrate this into public health responses in future crises. This year however, we also see that the reduction of the acute stress of the COVID-19 pandemic has allowed for public health researchers to turn some attention to other diseases and areas of the field.
Abstract presentations
The scientific programme is packed – 120 abstracts will be presented as oral presentations in 9 Fireside sessions, and in 13 Poster tours. 50 more abstracts will be available as 'online-only posters', you can view them on the online platform and ask questions to the author.
Abstract presentations will dissect data on key health threats in Europe, including COVID-19, food- and water-borne diseases, sexually transmitted infections, and bring the latest on health crises this year like monkeypox and hepatitis.
Abstract presentations at ESCAIDE 2022
Abstract presentations form a key part of the scientific programme at ESCAIDE. Abstracts are presented at ESCAIDE as either oral presentations or posters.
Plenaries
The Scientific Committee have brought together five plenaries with renowned speakers. ESCAIDE 2022 opens with insights from the keynote speaker, prominent bioethicist Alena Buyx, on how ethics can be better integrated into decision making, when implementing restrictions on society to protect public health.
In recent years, European countries have witnessed an influx of people seeking refuge from war, persecution and other events. In Plenary B, experts with on the ground response experience and policy expertise will come together to discuss how those responsible for providing support can ensure the protection and promotion of the health of refugees.
In Plenary C, speakers will discuss the revolutions in vaccination that have come during the pandemic, addressing the implications that vaccine mandates, how mRNA vaccines have transformed vaccination, and the progress in public communication about vaccines.  
Plenary D will address the role of public health institutions and professionals in managing an infodemic, including the influence of social media and the increasing polarisation of public perception and debate, and their role in contributing to building public trust, promoting scientific literacy and handling misinformation. 
The closing plenary of ESCAIDE 2022 will explore how COVID-19 has changed the field of surveillance, from the use of electronic health records to genome sequencing, and what the implications are for future surveillance of acute respiratory infection diseases.
Plenaries at ESCAIDE 2022
Plenaries provide an opportunity to discuss public health challenges and scientific advances, with high level speakers from cross-cutting fields.
Side events
Alongside a packed scientific programme, many side events are being hosted at ESCAIDE this year.
Eurosurveillance celebrates its 10th seminar at ESCAIDE. The panel members will explore and discuss new ways of presenting and translating knowledge in science communication.
A panel discussion will touch on how mathematical modelling can provide insights into the trends of COVID-19 and plausible trajectories of the future. Other seminars will include a presentation on the past and the future of the MediPIET programme, and discussions about the use of social science methods to support the prevention and control of infectious diseases in Europe.
BarCamp provides dynamic and informal forum for networking and exchanging raw ideas, methodological hiccups, data challenges and more. Conference participants suggest and vote for topics to be discussed.
The Career Compass Q&A session aims to provide junior ESCAIDE attendees with a platform to understand and develop a career path in public health.
Side events at ESCAIDE 2022
Side events are organised by other organisations and include debates, showcases of work and networking and career development opportunities.
What do I need to know to attend?
All information you need to attend in-person or online is available on the 'For attendees' page.
You can still register to attend online: Registration (escaide.eu)
Attending ESCAIDE
Information about attending ESCAIDE 2023, online or in-person, and how it will work as a hybrid event will be published here.
How do I follow the conference on social media?
Latest updates in the lead up will be shared on our Twitter and Facebook! During the conference you can expect live tweeting from sessions. A "Twitter wall" will be in the venue so you can see the buzz around the conference.
You can share your participation at ESCAIDE 2022 with our social media toolkit. See what others are saying with #ESCAIDE2022!
Social media toolkit
We are excited for you to join us at ESCAIDE 2022. We've put together a social media toolkit to help you share your participation with your colleagues and networks!
Can I get a certificate of participation?
After the conference, participants can request a certificate of participation after completing the feedback survey, which will be available from [DATES].
Types of certificates:
Continuing Medical Education (CME) certificates: The European Scientific Conference on Applied Infectious Disease Epidemiology, Stockholm, Sweden, 23/11/2022-25/11/2022 has been accredited by the European Accreditation Council for Continuing Medical Education (EACCME®) with 17 European CME credits (ECMEC®s). Find out more.
General certificates of attendance: Requesters will receive a general certificate of attendance with the dates and times of each conference day.
Certificates of presentation: Sent to abstract presenters only.
All certificates will be sent to requesters via email, by 13 January.