Career compass 2019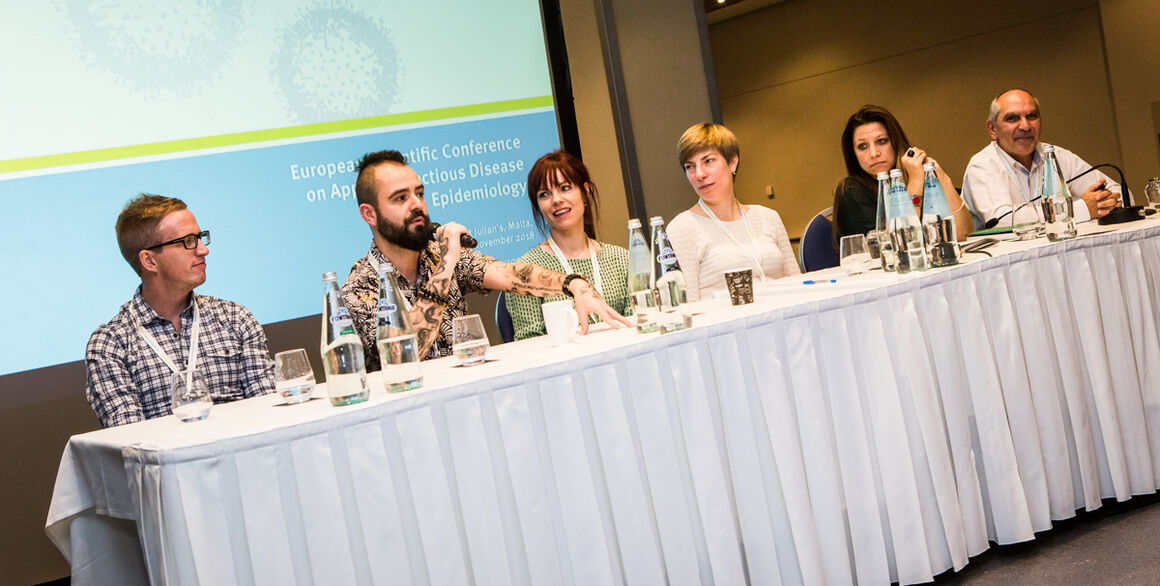 The Career Compass is an open Q&A session about the different career paths of established public health professionals. This event provides the ideal platform to help junior public health professionals connect with senior professionals and discover future career opportunities. It is organised by EPIET and EUPHEM fellows in collaboration with the EPIET Alumni Network (EAN).
Marta Valenciano is the Director of Epiconcept's Epidemiology Department. She studied veterinary medicine in Madrid, holds a Master in Public Health, a PhD and has completed the EPIET training programme. Initially, Marta worked with Spanish NGOs after which she worked at InVS for four years and then moved on to work for the WHO Communicable Disease Surveillance and Response team for four years. Furthermore, she has been a scientific coordinator for EPIET in Madrid participating in the education of the next generations of EPIET fellows. In 2007, she joined Epiconcept at Alain Moren's newly founded epidemiology department. There she was strongly involved in building the department and took over to head the department as Director in February 2018 after Alain's retirement. Epiconcept works on contract basis with the public sector and does mainly epidemiological research, surveillance projects, support to data analysis/biostatistics, and field epidemiology training. She likes the flexibility and freedom of working in a small, creative and motivated team, the variety of projects they have and she really appreciates the lack of heavy bureaucracy.
Viktor Dahl is a medical doctor who currently works 80% as a resident in infectious diseases at the South General Hospital in Stockholm and 20% as an epidemiologist at the Public Health Agency of Sweden focusing on HIV and Hepatitis B and C. He graduated from Lund University and completed a PhD at the Karolinska Institutet working on HIV. In parallel with his PhD-studies, he worked as a clinical microbiologist at the Swedish Institute for Communicable Disease Control (now the Public Health Agency of Sweden). When he finished his PhD studies, he was given the opportunity to participate in the EPIET-programme. He very much enjoys combining clinical work as a medical doctor with the public health related work at the Public Health Agency of Sweden, giving him the opportunity to see the same issues from two perspectives.
Amy Mikhail is a biological scientist, epidemiologist and EUPHEM alumna. After specialising in tropical vector-borne disease, she spent ten years working with Medecins Sans Frontieres and in academia on malaria vectors and laboratory methods for the diagnosis of malaria and other febrile illnesses in India, the Republic of Congo, Tanzania and Afghanistan.  She moved to the UK in 2012 to undertake a EUPHEM fellowship with Public Health England, where she has continued to work post-graduation at the interface between epidemiology and public health microbiology, developing data science tools to support the routine use of whole genome sequencing for surveillance and outbreak investigations.  Her main topic areas are now gastrointestinal pathogens, with a specific focus on shigellosis.  Amy has also participated in several WHO/GOARN missions, to Indonesia (diphtheria outbreak 2013), Guinea (West Africa Ebola outbreak, 2015) and most recently as part of the UK Emergency Medical Team to support the response to the diphtheria outbreak affecting Rohingya refugees in Cox's Bazaar, Bangladesh.  For the past year she has also worked as frontline coordinator for the UK FETP. 
Céline is a pharmacist and PhD and a EUPHEM alumna. After 2 years working as a consultant for the WHO, Céline recently joined the WHO laboratory strengthening team in Lyon, France. There she contributes to improving public health laboratory preparedness towards outbreaks and providing technical assistance and guidance. Before undertaking EUPHEM (in Denmark) and joining WHO, Céline spent 9 years working on malaria research in Madagascar, France, the USA, Papua New Guinea and Australia. Through these different positions, she had the chance to work both at the bench and in the field, to manage teams and funding, and … to never get bored.
Lina Moses is an Assistant Professor at the Tulane University School of Public Health & Tropical Medicine. Trained in Tropical Medicine, Community Health and Environmental Health, Moses' research focuses on the prevention and control of zoonotic diseases. She has spent over a decade in West Africa overseeing epidemiology and surveillance activities for Ebola virus disease, Lassa fever, and monkeypox. Moses is a member of the GOARN Steering Committee and will assume leadership of the GOARN-Research Working Group in January 2020.
Julita Gil Cuesta is working with Doctors without Borders (MSF) on Operational Research on Vaccine Preventable Diseases and Epidemics. She is trained as a Medical Doctor, MPH and specialist in Preventive Medicine and Public Health in Spain. Previously, she has been working in Epidemiology and Public Health at CRED/UCL University in Brussels and in the World Health Organization country offices in Vietnam, Washington DC, Bolivia and Sierra Leone. She holds a Field Epidemiology Programme (EPIET/ECDC) fellowship at the States Serum Institute, Copenhagen, Denmark.
Her main areas of work include surveillance systems, vaccine preventable diseases, outbreak response and newborn and maternal health in hard to reach populations.