Attending ESCAIDE
ESCAIDE 2022 is here - what do you need to join us
All registered participants can how access the ESCAIDE online platform, Swapcard. You can access the app through a link sent to you by email (from noreply@swapcard.com), or using the link below.
1. Access the platform using the link below (also sent to you by email from noreply@swapcard.com)
2. Log in using the email address that you used to register and update your profile
3. In-person attendees:
Your QR code ticket is available on the homepage of the Swapcard platform/app - have this ready to be scanned when you arrive at the venue
How will ESCAIDE work in hybrid?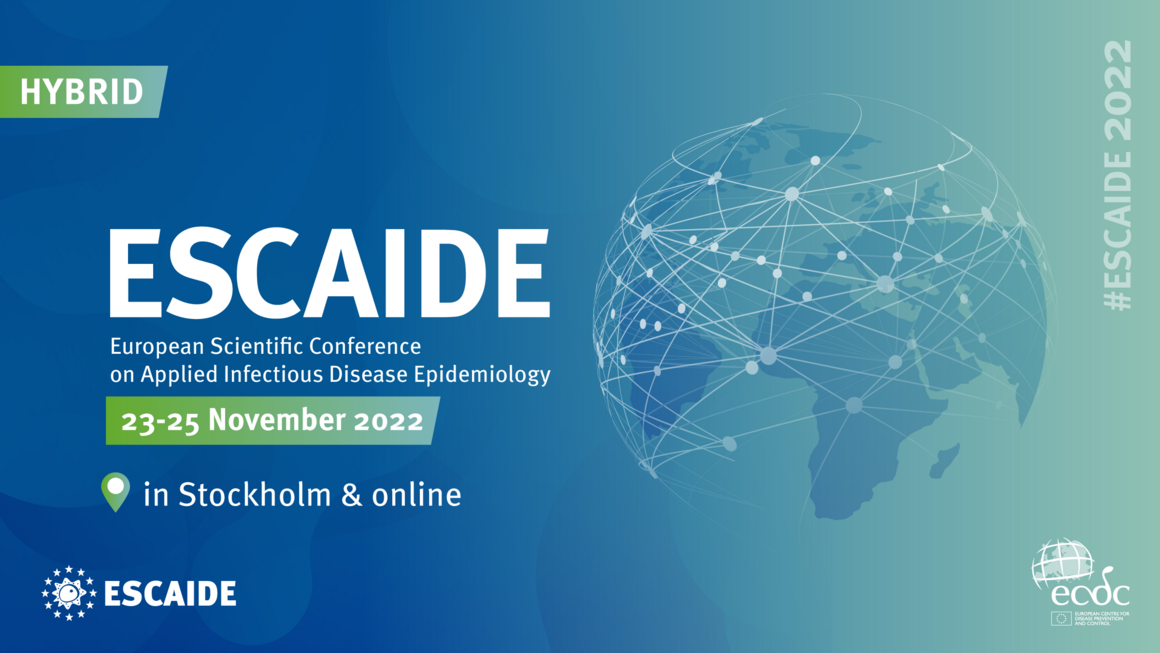 This year, ESCAIDE will be a hybrid event for the first time. We are working hard to integrate the two experiences and connect in-person and online attendees.
Conference venue: Münchenbryggeriet, a conference centre in central Stockholm. The venue will host the sessions, including plenaries, oral abstract sessions (Firesides), poster exhibition and tours, side events and info stands. Find out practical information about attending in-person here.
Online platform: Swapcard, which was used for the 2020 and 2021 online editions of ESCAIDE.
All sessions at ESCAIDE 2022 are hybrid - they will take place in the conference and be live streamed online, with interaction from both audiences. Speakers may be in-person or online.
Find out more about the sessions at ESCAIDE on the programme page (with details on how they will work in hybrid), including plenaries, abstract sessions and side events.
During sessions, the in-person and online audience will be asked to post their questions in the 'Questions' function in the Live Discussion on the session page in the Swapcard app using their mobile phone, tablet or laptop, so the moderator can monitor all incoming questions. You can always find the session page through the Programme.
Practical information
Follow the link below to find out practical information about attending in-person, with information about the venue, your ticket, travel and accommodation. 
Conference online platform (web browser and mobile app)
The online platform is for all ESCAIDE attendees - both in-person and online. 
The platform will everything you need to attend ESCAIDE in-person or online, including the full programme information, live-streamed sessions, all abstracts, the virtual poster exhibition and interaction features to engage in sessions and interact with other participants.
During sessions you can comment and ask questions in the live discussion pop-ups to contribute to discussion and put questions to the panel during the Q&A, polls and word clouds will also appear here during sessions. 
Access the platform
Both online and in-person attendees will receive an email shortly before the conference to gain access to the conference platform (Swapcard), from noreply@swapcard.com.
Get the ESCAIDE app: on iOS | on Google Play
You can sign into the ESCAIDE app with the same credentials as your Swapcard profile.
Complete your profile
Your link to the Swapcard platform will take you to your pre-created account. You will need to add a password. ESCAIDE 2020/21 attendees, who permitted for their accounts to be retained, will be able to use the same account as before, as long as they registered with the same email address.
We strongly encourage you to complete your ESCAIDE profile on Swapcard, which will allow other participants to find out more about you and make connections with you. Speakers and moderators will have their profiles linked to their sessions. Abstract presenters will also be linked to their abstracts, so participants can view abstracts and posters, find out which session they will be presented in and reach out with questions or collaborations! 
Please note that your profile is accessible to all registered participants in the conference (although attendees will have the option to make their profile not visible to others).
Navigating the platform
Programme tab: Contains details about all sessions. You can find every session page through the Programme tab. On the page of the session, you can watch the live-stream and ask questions in the 'Questions' function (used by both the online and in-person audience). Recordings of sessions will be made available shortly after.
LIVE tab: Here you can always find what's streaming live. 
Plenaries: Access the session pages to find out more and watch the Plenary sessions at ESCAIDE 2022.
Firesides: Access the session pages to find out more and watch the Fireside sessions at ESCAIDE 2022, where abstracts are presented that were selected for oral presentation. 
Posters: View all posters at ESCAIDE 2022, filter by session and view online-only posters (which aren't presented live)
My Event: On this page you will find your curated schedule. Events will appear here when you bookmark them from the programme tab or sessions pages. 
Participants: See everyone who is at ESCAIDE: view profiles, make connection requests and message other participants, and invite them for virtual or in-person meetings. You can choose to make your profile visible or not to other participants.
Info stands: Find out more about organisations at ESCAIDE – see their work, who they are and get in touch! 
Interact: Join a 'talkspace' - virtual discussion rooms for online participants to continue discussions after sessions and network. Take part in activities including the EAN Photo Contest.  
Helpdesk: Contact the support team, view the venue floorplans and guides.
Interact in sessions
During sessions you can ask questions to the speakers by writing in the 'Questions' box in the 'Live discussion' which appears in the bottom right of each session page. In the 'Chat' box you can write comments, and all questions will also appear here. You can 'like' questions from other participants to show you are also interested!
Sli.do will be used for audience interaction, with polls, word-clouds and quizzes, to hear what you have to say! Links to Sli.do will be shared during sessions, or you can access them in the Sli.do website with #ESCAIDE2022.
Session recordings
Most sessions at ESCAIDE are recorded, and will be made available on the page of the session on Swapcard shortly after it has taken place. The platform will be accessible until March 2023, so there will be plenty of time to catch up on any sessions you miss.
Share your participation
Social media toolkit
We are excited for you to join us at ESCAIDE 2022. We've put together a social media toolkit to help you share your participation with your colleagues and networks!
CME accreditation
The European Scientific Conference on Applied Infectious Disease Epidemiology, Stockholm, Sweden, 23/11/2022-25/11/2022 has been accredited by the European Accreditation Council for Continuing Medical Education (EACCME®) with 17 European CME credits (ECMEC®s).
Find out more about how to apply: ESCAIDE 2022 accredited with European CME credits