View the instructions on how to attend ESCAIDE 2021 online
ESCAIDE 2021 returns as an online event this year.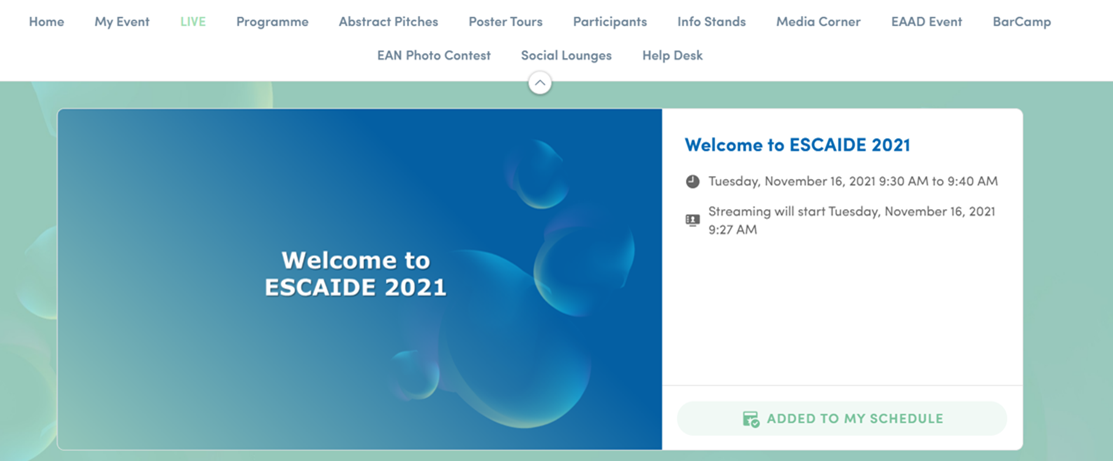 ESCAIDE 2021 returns as an online event this year. The success and learnings of last years' event have allowed us to fine tune the experience, and we have put even more focus on interaction, to enable you to get as much as possible out of your attendance at the conference.
Online events bring benefits including reduced CO2 emissions and increased accessibility for those who may not be easily able to attend an in-person events due to financial reasons, personal commitments or distance. This was demonstrated by the high attendance at last years' conference from across Europe and the world. We have worked hard to ensure the scientific content is delivered in an effective way, and the interaction and networking, which form such a fundamental part of conferences, can still take place on our online platform.
Attending an online event means you have more flexibility to join sessions that interest you, even with other commitments. We do also strongly encourage you to check out the programme and attend multiple events across the conference, including daily wrap-up sessions and use the abundant opportunities to connect with others in the field!
User guide
View the user guide on how to attend the conference.
Stay tuned
Follow us on Twitter and Facebook (@ESCAIDE) for updates and live commentary during the conference.
For any questions you might have, don't hesitate to contact the ESCAIDE organisers at: escaide.conference@ecdc.europa.eu