What to expect at ESCAIDE 2021
The ESCAIDE 2021 programme and sessions are coming together, and registrations are open! As the conference nears, we are regularly updating our website with the latest information. Here is an overview of what you can expect at ESCAIDE 2021.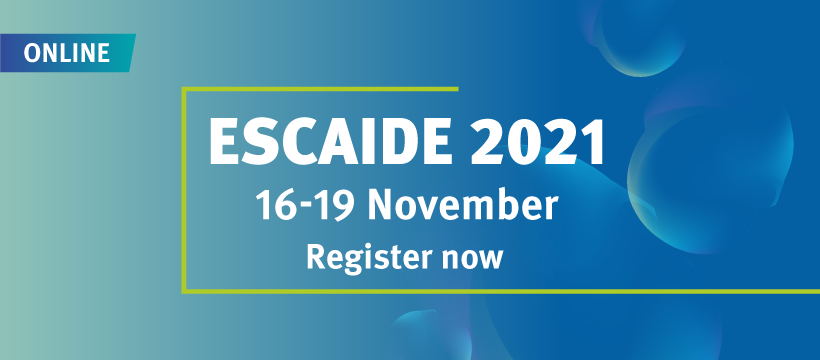 What is ESCAIDE?
The European Scientific Conference on Applied Infectious Disease Epidemiology is an annual conference funded and organised by ECDC, providing a forum for public health professionals to meet and share experiences on infectious disease prevention and control, and exchange knowledge in fields of epidemiology, microbiology and other related activities, which can be applied to support public health action. In past years, the conference has typically attracted delegates from around 50 countries. In 2020, when ESCAIDE was organised as an online event, in response to the COVID-19 related restrictions on holding face to face events, it successfully brought together over 1500 participants from more than 90 countries.
Over 1000 people are already registered to ESCAIDE 2021 – here's a preview of what you can expect.
How will ESCAIDE 2021 work?
ESCAIDE 2021 is online again this year, hosted on Swapcard, an online conference platform. This will go live one week before the conference, allowing you to create your profile and explore the content before the start of the conference. We'll be publishing a detailed guide on how to use Swapcard shortly before this, to help you to get the most out of the online conference space.
ESCAIDE enables participant-led discussions and is an environment where early-career through to established public health professionals and researchers can present their work and share ideas. We have worked hard to ensure these interactions and activities can still take place – all through our online platform.
What events are taking place?
ESCAIDE is a platform to discuss public health challenges in infectious disease and the latest scientific research and advances in the field. As to be expected, many of the sessions at ESCAIDE 2021 will discuss the COVID-19 pandemic, with an emphasis this year on reflecting on what we have learnt so far in this continually evolving pandemic, and how these experiences can be translated to improve public health responses to other infectious diseases and future pandemics. However, as always, the programme for ESCAIDE covers wide ranging disease areas and health functions, including implementation research, field epidemiology, surveillance, food and waterborne diseases, AMR and more.
There will also be look to how digital health and modelling can be better applied in infectious disease public health. Abstract sessions will cover the latest research in the field. Eurosurveillance will celebrate its 25th year and the European Antibiotic Awareness Day 2021 will be launched, with sessions in the programme.
Plenaries
This year, our Scientific Committee have brought together four plenaries with world-class, multi-disciplinary panels, to discuss and debate key topics in infectious disease public health.
ESCAIDE 2021 opens with a keynote plenary session on the pertinent topic of Communicating science and scientific uncertainty during an evolving pandemic, with keynote speaker, Professor Baron Peter Piot, who has been widely praised for his clear and open communication during the COVID-19 pandemic, particularly in his role as Special Advisor to President of the European Commission.
On day two, distinguished speakers will discuss the contributions of real-time modelling during the COVID-19 pandemic and how the major innovations developed and the learnings from challenges experienced can be translated to other communicable diseases. The second session will discuss how digital health technologies can be used to transform public health, with topics covered including COVID-19 apps in Norway, transforming digital health in Israel, Maltese contact tracing and enabling public trust in digital health data use.
There has been great inequity in how the coronavirus pandemic has impacted, and continues to impact, different groups – at both a global and country level – for cases, deaths, vaccine coverage and social and economic impact. How can this inequality be addressed? What can scientists, public health professionals, researchers, epidemiologists and medical practitioners do to contribute? Our closing plenary of ESCAIDE 2021 will address these questions.
Find out more about the plenary sessions
Abstract presentations
138 abstracts were selected to be presented as posters or oral abstract pitches this year, covering a diverse spectrum of topics within applied infectious disease research and epidemiology.
Oral abstract pitch recordings and posters will be hosted on Swapcard. These can be viewed at any time, from when the platform launches a week before the conference, and you can get in touch with the presenter to ask questions. During the conference, there will be 'fireside sessions', where oral abstracts are grouped by theme. In these sessions, there will be time for you to watch the pitches on the platform, followed by a live session with the presenters, where a moderator will guide discussion and you can ask questions.
This year there will be a chance to delve deeper into posters, as alongside the virtual poster exhibition, there will be 'poster tour' sessions in the conference programme, where presenters will take questions from the moderator and audience.
Find out more about the abstract sessions and view the programme
Events
Alongside a packed scientific programme, many events are being hosted at ESCAIDE this year.
The European Antibiotic Awareness Day (EAAD) is European health initiative coordinated by ECDC to provide a platform and support for national campaigns for the careful use of antibiotics. For 2021, the week-long digital campaign will be launched with a session on Day 3 of ESCAIDE discussing antimicrobial resistance during COVID-19.
Eurosurveillance celebrates its 25th anniversary this year with a seminar at ESCAIDE that will include a reflection on the work of Eurosurveillance to date from ECDC Director, Dr Andrea Ammon, and an in-depth discussion of the translation of virological and immunological observations, into research into practice.
BarCamp returns for ESCAIDE 2021! This lively and popular event that has formed part of the ESCAIDE programme for the past few years, provides dynamic and informal forum for networking and exchanging raw ideas, methodological hiccups, data challenges and more. At BarCamp, you generate the agenda – participants submit their ideas throughout the first few days of the conference, and vote on the topics proposed.
To provide junior ESCAIDE attendees with a platform to understand and develop a career path in public health, EPIET and EUPHEM fellows will be hosting a Career Compass Q&A session on the opening day of ESCAIDE.
Other seminars will include a presentation on the past and the future of the MediPIET programme, and discussion sessions on Non-Pharmaceutical Interventions and on the SONAR-Global project.
Interacting at ESCAIDE
All interaction at ESCAIDE be facilitated through our online platform Swapcard. During sessions you will be able to pose questions and comments to the speakers and presenters in the chat and live polls and word clouds may be used to get audience input on key topics.
Missing seeing the faces of other participants? Talk Spaces will be open throughout the conference to allow anyone to join with their cameras on and digest the sessions, network, catch up with old friends and colleagues and share your research! The profiles of all participants (attendees, abstract presenters, speakers, moderators) can be viewed and you can reach out to others over message and set up video calls. As in 2020, an open chat room – the Coffee Corner – will run throughout.
The EAN photo contest will return – submissions will be open during the week before the conference, through the online platform. The platform will also host a personality quiz, where you can see how engaged you have been at ESCAIDE and get tips for how to get more involved!
A guide to the online conference platform will be published soon. Be sure to check it out to find out how to make the most out of your attendance at ESCAIDE 2021!
Certificates of participation
After the conference, participants can request a certificate of participation after completing the feedback survey, which will be available from 19-30 November.
Types of certificates:
Continuing Medical Education (CME) certificates: The European Scientific Conference on Applied Infectious Disease Epidemiology (ESCAIDE) 2021, Stockholm (online), Sweden, 16/11/2021-19/11/2021 has been accredited by the European Accreditation Council for Continuing Medical Education (EACCME®) with 24 European CME credits (ECMEC®s). Each medical specialist should claim only those hours of credit actually spent in the educational activity. According to the EACCME requirements, participation reports will be checked and a personalised certificate with the number of session hours attended during the conference days will be sent to requesters.
General certificates of attendance: Requesters will receive a general certificate of attendance with the dates and times of each conference day.
Certificates of presentation: Sent to abstract presenters only.
All certificates will be sent to requesters via email, by 14 January 2022. 
Page last updated:
5 Nov 2021