ESCAIDE 2020 goes online
ESCAIDE 2020, scheduled for Warsaw, Poland, will be delivered as an online event from 26 to 27 November.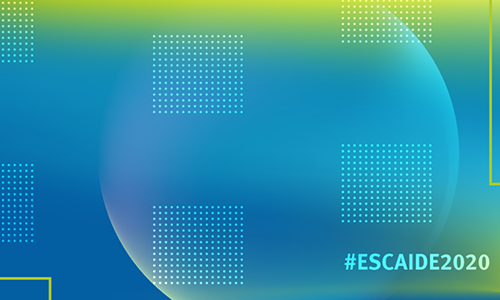 COVID-19 is impacting on activities in all areas of life. Sadly, one of the consequences of COVID-19 is the need to restrict travel and defer from holding mass gathering events, such as ESCAIDE. There remains continuing uncertainty about the period of time current mitigation measures for COVID-19 may continue, or if similar measures may need to be reintroduced in future. Because of this uncertainty, and the need to plan for the conference in good time, we have made the difficult decision that ESCAIDE should not be staged as a physical event in 2020.
Deciding to go online now and having a clear approach gives much-needed clarity for everyone involved in the Conference. It removes the cloud of uncertainty around the organisation of ESCAIDE in Poland, and allows us to focus our efforts and resources in offering a relevant event, making the most of online technologies and its learning formats.
We strongly believe that this change in format provides a unique opportunity to develop ESCAIDE; we aim to ensure that the programme will remain as stimulating and informative as ever, and by making content available online, the conference can reach new audiences.
The 2020 edition also has even greater relevance given the current global attention on communicable disease prevention and control. The eyes of the world are looking at the ESCAIDE family of epidemiologists, microbiologists and public health professionals to address the many key questions that remain to support meaningful action against COVID-19. We believe that ESCAIDE 2020 will hence offer a hugely important opportunity to exchange information on Infectious Diseases and COVID-19 in particular.
This year we are running one single abstract call that will be open from 1 June until 14 September. As always, the conference welcomes abstracts in all areas related to infectious disease prevention and control, including epidemiology, public health microbiology, surveillance, and the application of tools and methods to support infectious disease outbreaks or interventions. We encourage you to follow ESCAIDE on social media and check our website regularly for updates on the organisation and development of the conference.
We take this opportunity here to express our gratitude to colleagues around the world who work tirelessly to fight the pandemic and to say that without you, the world could not win this fight.  In the same time, our thoughts go out to those families that have been affected.
Thank you for your understanding and we hope that together we will deliver an exceptional 2020. Stay in touch with us if you have any questions or suggestions.