About the Conference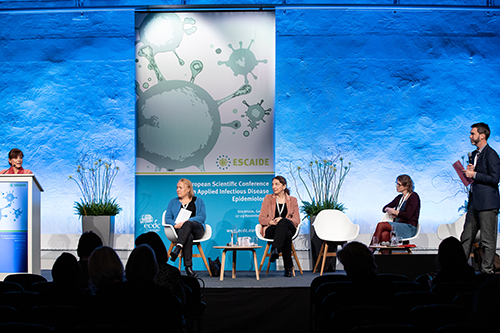 The 'European Scientific Conference on Applied Infectious Disease Epidemiology' (ESCAIDE) is an annual conference which aims at strengthening the prevention and control of communicable disease through the sharing of knowledge, experience and contacts. It also provides opportunities for further professional development for fellows and students.
ESCAIDE is composed of a broad programme of sessions, forming a platform for the sharing of scientific advances, networking and skill development. Find out more about the Events at ESCAIDE.
Vision
The aims of ESCAIDE are:
sharing of scientific knowledge and experience in all areas applied to infectious disease epidemiology, public health microbiology and related scientific fields;
discussing and debating scientific advances and current public health challenges;
strengthening and expanding the human network of all involved in this field in Europe and globally;
providing opportunities for further professional development for fellows and students in this field, e.g. EPIET, EUPHEM, FETP and other national/international training programmes.
Princip​les
The Conference is based on the following principles:
applying scientific independence and integrity;
increasing the EU added value;
strengthening the relationship with stakeholders;
showcasing scientific leadership and innovation; and
maintaining high social and community values, i.e. inclusivity, equality and respect.
Audience
The target audience of the Conference are professionals across all fields related to applied infectious disease epidemiology in the EU/EEA and globally. This includes, but not limited to, epidemiologists, veterinarians, microbiologists, clinicians, public health professionals, communication specialists, modelers, statisticians, social scientists and policy makers.
History​
The inaugural ESCAIDE was held in Stockholm in 2007. Between 2007 and 2012, the conference alternated between Stockholm and a city of an EU/EEA Member State. Berlin hosted the conference in 2008, Lisbon in 2010 and Edinburgh in 2012. Between 2013 and 2017, the conference was held in Stockholm.
From 2018, ESCAIDE has resumed alternating between Stockholm and another city of an EU/EEA Member State. ESCAIDE 2018 took place in Saint Julian's and in 2020 the conference was planned to take place in Warsaw, however due to the COVID-19 pandemic, the conference switched to an online event. ESCAIDE 2019 took place in Stockholm and the 2021 edition will go online again.